5-day Ayurvedic Massage Therapy
Tri-Dosha's unique programme runs over five consecutive days.
The first day covers the theory required to understand the physiology of Ayurvedic massage and Ayurvedic diagnosis, with the remaining days covering the seven practical therapies required for those wishing to become a certified Ayurvedic massage therapist.
Throughout the week, we work with the breath so that the nervous system can let go of stress and connect mind-body during facilitation. We use natural herbalised oils, powders (churna) and herbal compresses (bolus) to improve blood circulation and warm up the tissues intensifying the benefits of the massage which offers a cleansing and re-energising treatment.
The seven therapies include: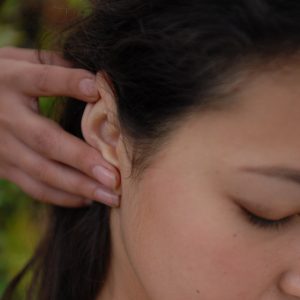 Head/Neck/Arm Treatment (shirobhyanga)
A deeply therapeutic caring treatment designed to nourish the scalp, and wash away tensions associated with migraine, headache and neck stiffness. It involves warm dosha-specific oils poured into the hair, aiding the nourishment of roots. While the indigenous herbs calm and revitalise the spirit, ancient massage techniques allow the body to surrender and enhance overall equilibrium.
Good for: stress; strain; migraine; hair condition.
Duration: 30 minutes.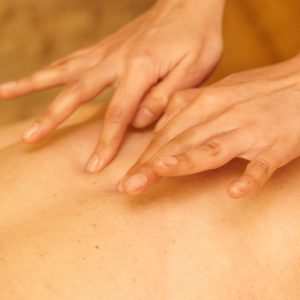 Full body with marma [vital] points (marma abhyanga)
An ancient therapy combining pressure to specific marma (vital) points all over the body and yogic stretches of all joints. The massage manipulates healthy flow of energy through the body's junctions and nadis (pathways and channels), and delivery is personalised according to your needs.
Good for: relaxation, detoxification, fatigue, anxiety, nourishment to skin.
Duration: 60 minutes.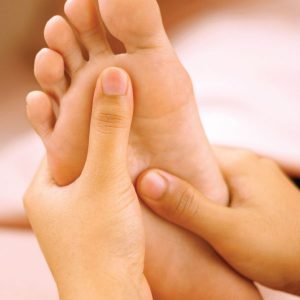 Lower leg & foot treatment (padabhyanga)
Tri-Dosha's Ayurvedic alternative to reflexology. Combining deeply therapeutic techniques to release energy blockages, improve circulation and restore tired calf muscles, the body is eased and energised. In addition, the soles of the feet are cleansed and nourished. Ideal as a preventative monthly maintenance therapy against the stresses of the modern world.
Good for: relaxation, vitality, blood circulation, mums-to-be, after a flight.
Duration: 30 minutes.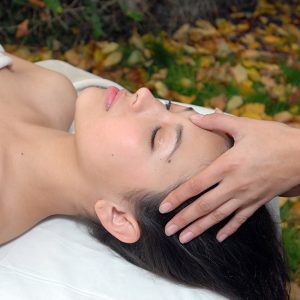 Face massage with marma [vital] points (mukhabhyanga)
Working on the face, neck and head, mukhabhyanga is a remedial therapy where firm pressure lifts facial muscles, leaving a youthful and vibrant glow. By massaging marma points, the movements increase energy flow; stimulate blood flow and collagen, which helps to reduce problem lines.
Good for: physical and mental wellness (sattva), anti-ageing.
Duration: 30 minutes. Best taken: as a course of six.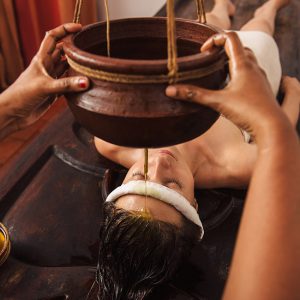 Warm oil poured onto the third eye (shirodhara)
Warm blended oil is gently poured in a slow rhythmic movement over the forehead marma (vital) point, also known as the third eye. Profoundly relaxing, this treatment works to switch off a chattering mind and induce deep rest for a renewed energy and calm that borders meditation. A facial or foot and leg treatment precedes the shirodhara.
Good for: relaxation; insomnia; tension; stress; chronic colds; vata imbalance.
Duration: 60 minutes.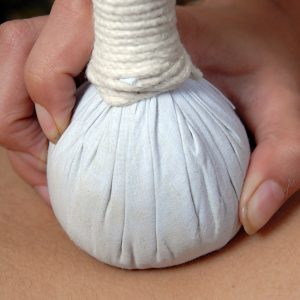 Herbal compress massage (pinda sweda)
Therapeutic Ayurvedic herbal powders are crushed in a traditional pestle and mortar and tied into a muslin cloth which forms the medium for this treatment, known in India as a bolus. After warming, oil is applied to the body using the bolus and an Ayurvedic technique known as pummelling. Extremely nourishing, strengthening and rejuvenating, this treatment is great for sports enthusiasts as it addresses problems relating to weak joints and sore muscles.
Good for: stiff joints and pains; arthritis; inflamed muscles; certain skin conditions.
Duration: 60 minutes.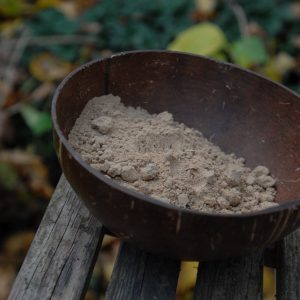 Detox scrub (udvartana)
A treatment that originated in India, this cleansing treatment uses specific ground Ayurvedic herbs which are vigorously rubbed over the body to help draw out impurities and reduce water retention. The natural ingredients also exfoliate, leaving lustre to the skin surface.
Good for: exfoliation; poor blood circulation; cellulite; kapha imbalance.
Duration: 30 minutes.
"As a yoga teacher who loves to travel, I was looking for another string to my bow to offer me freedom and financial independence. I also wanted to advance my hands-on skill to support my yoga students with an additional service. This was the perfect course. We've learned so much. The treatments are so beautiful and training inspiringly delivered, with so much love. Thank you Tri-Dosha."

"The course was everything it promised to be and more. At times challenging, yet in a relaxed and supportive environment, the programme is incredibly informative, providing real insight into the doshas and how to apply that to myself as well as the technical skills to understand energy lines, marma [vital] points and the importance of being balanced. We were taught how to individualise treatments to clients, and of course it was great to experience them as well."

"As a massage therapist I have been keen to come on this course for over a two years now and it really is one of the best things I have done. I found the pace of the course was great and the material we covered has given me a much more deeper insight into how the body works from an energetic level. Thank you for a wonderful week! The course was excellent, and made even more enjoyable by sharing the experience with a really fabulous group. A great start to becoming an ambassador for Tri-Dosha."
"Amazing treatments. The consultation at the beginning is always thorough, and allows me to explain my needs. Most of my problem areas are lower back, and my Tri-Dosha therapist always creates a bespoke treatment to address this."

"I have been having regular Ayurveda treatments for a number of years. I tend to carry a lot of tension in my shoulders and neck, but this Tri-Dosha procedure with specific work to marma points in this area, has been the most beneficial, physically and also emotionally."

"It wasn't only the best treatment I had yesterday, but one of the best treatments I have ever had – and I have tried lots of massages! I can't wait to publish it in the magazine."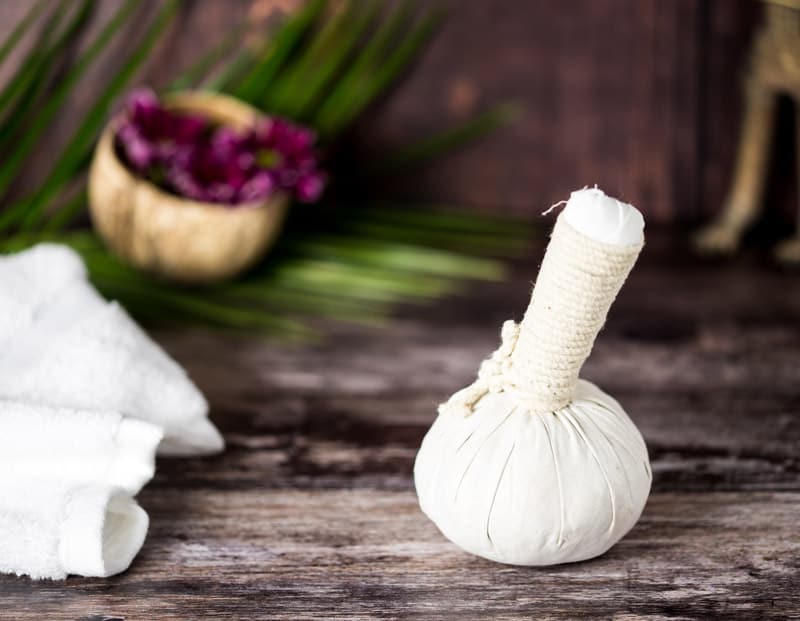 Terms and Investment
For massage training, students should have an anatomy and physiology qualification (or equivalent) and a basic body massage certificate.
To secure a place, a £250.00 non-refundable deposit required. Balance due two weeks before course commencement date.
In the case of student cancellation, deposits and part payments of course fees are non-refundable and non-transferable. For transfers, an administration fee of £25.00 is due.
Students are required to bring two bath towels and wet wipes.
Dress code: comfortable professional wear (T-shirt, relaxed pants).
Refreshments provided.
Lunch and accommodation is not included.
Investment:
5-Day Ayurvedic Massage Therapy:
On-site £750 (£625 + VAT)
On-line £250 (£208.33 + VAT)
Venue UK
Tri-Dosha Studio
64 Kent Road, Mapperley
Nottingham NG3 6BG
By train, the nearest station is Nottingham – a 15 minute drive away.
Driving
Please see Google Maps to find your best route. Parking at the Tri-Dosha studio is in front of the building and is available 24-hrs.
Bus
Bus route 45 from Queen Street (stop Q1) drops you off at Robinson Road (MA17). The Tri-Dosha studio is a 5-minute walk away from this stop.
Venue Spain
Feel Retreat
Casa Nirvana Era Del Lugar
1, 04638, 04638, Mojacar, Almeria
Spain
www.feelretreat.com