PROVENANCE: IT AIN'T WHAT YOU BUY, IT'S THE PLACE WHERE YOU BUY IT
Research recently conducted by money.co.uk shows that buying an eyeshadow palette or scented candle can boost your mood by over 60% according to a scale carefully designed to calculate emotional responsiveness. Which won't be news to those of us who do but does at least add some science to wave under the noses of anyone trying to stop us. What that data doesn't show – yet – is just how much of a difference the provenance of your purchases makes.
Where is important. Where is the place the plants grow that go into Tri-Dosha products. Where is also when: that location goes back generations in my family, so if I'm talking about my roots I mean that in very literal ways. These things are important, which is why Indian farmers are protesting against corporate agripower that puts not just their livelihoods but their lives at risk.
Where also involves how products get to us, which adds transport and hence carbon footprints to the mix. And that's something many of us are even more conscious of during lockdown with the increase in goods delivered. But there's another aspect to location in that regard. The fact that a network of Tri-Dosha therapists exist around the country reassures me that people in their areas have someone they can turn to for a consultation. More so because I know the provenance of their training since I designed and delivered it. Offering a massage may not be possible (rules ebb and flow on this), but it's certainly possible to introduce people to meditation skills on Zoom. Being able to speak with a trained professional for guidance about mindfulness and yoga has been a lifeline for some people.
Provenance is about more than numbers. Where is the box for wellbeing on a spreadsheet? What do you need to see under a microscope to prove that a bath with the right oils bought from a Tri-Dosha practitioner living nearby gave you the best sleep you've had for weeks? How can you quantify the impact that a practitioner's earnings from doing what she loves has for her family and community? Ayurveda has always been about holistic approaches, and now more than ever it's a way not just of thinking but of being in the world, that matters.
Until next time … Namaste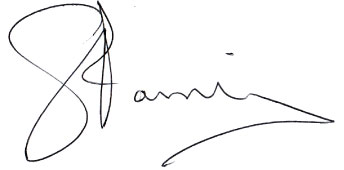 Founder Tri-Dosha
www.tri-dosha.co.uk